Gallery of Custom Bobbleheads
1 - The possibilities on a fully customized bobbles are endless. Here for example you see a bobblehead with an Army theme. They thought of everything from the military-grade helmet and visor to a detailed scale version of a tank along with a custom grass base. A complete masterpiece!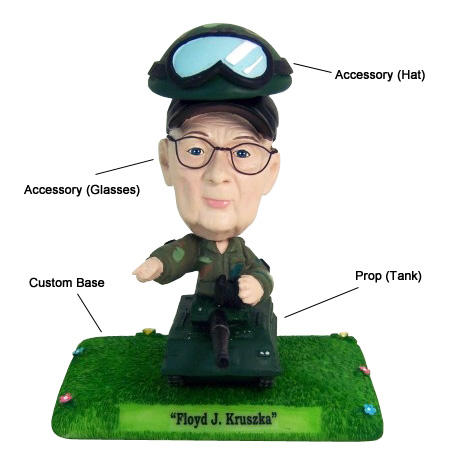 2 - Athletes are among one of the more popular custom bobbleheads because of their mass appeal with the fans. Here is a great depiction of Miami Sol's Betty Lennox! Complete with braids, team logo on her jersey, a custom basketball court base and as detailed of a basketball as you'll ever find.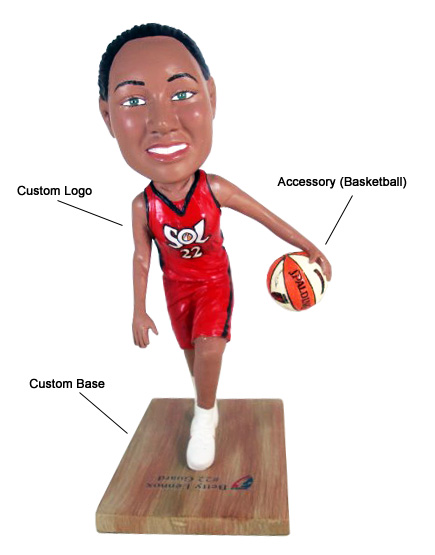 3 - Combining a large base with custom scenery and a full color logo is a great idea for those looking to promote their company. Here is a CNCBC news anchor fully equipped with a lifelike news desk as scenery...notice the detailed paintwork in the logo and the awesome microphone!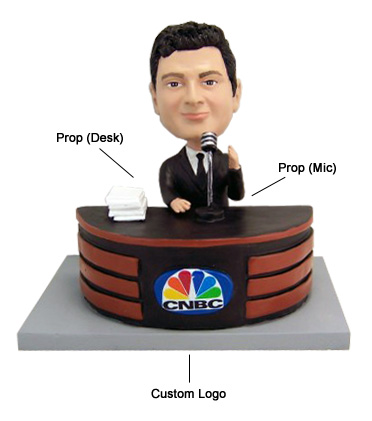 4 - As if you didn't know already, custom bobbleheads make for the perfect gift item. Here is how one person's love for another translated into a great piece of artwork. The base here was used to convey a message as opposed to the typical first and last name on the base. Notice how the artist put in the time to get the argyle print sweater and the facial hair as accurate as can be as well as the small charm on the necklace. No detail is too small for our artists.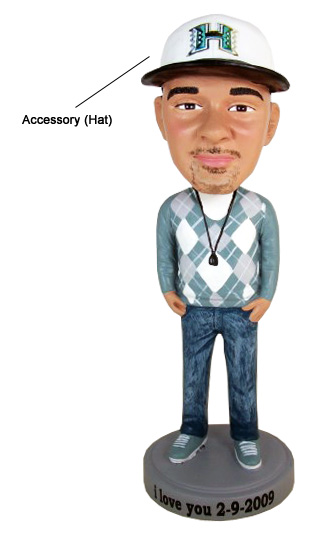 5 - This custom bobble is a fine example of creativity going a long way. Not only was the female accurately depicted, but the time taken to get the fish 100% right is unmatched. She chose a fishing pole as her handheld object and our artists managed to bring the whole fishing scene to life. The fish at her feet are attached to the custom base and the "catch" of the day is suspended by a lifelike fishing line. How original is that!?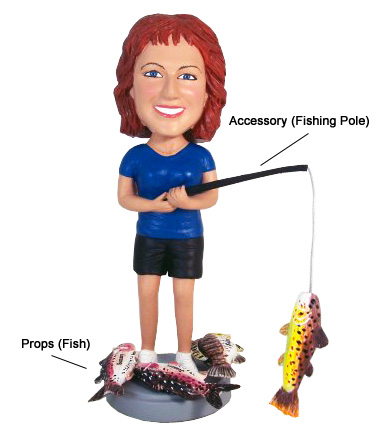 6 - No custom base is too challenging for us! Feast your eyes on this nature lover who wanted to capture the real essence of the outdoors with a custom mountainous terrain. The rocks are both sculpted and painted to perfection...exactly how the customer wanted.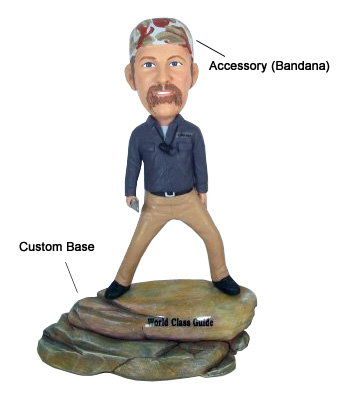 7 - I've never seen a more delicious example of a handheld object in all my life! This chef is a master when it comes to pizza and she wanted the world to know it. The golden brown crust and oven baked pepperoni is as accurate as it gets.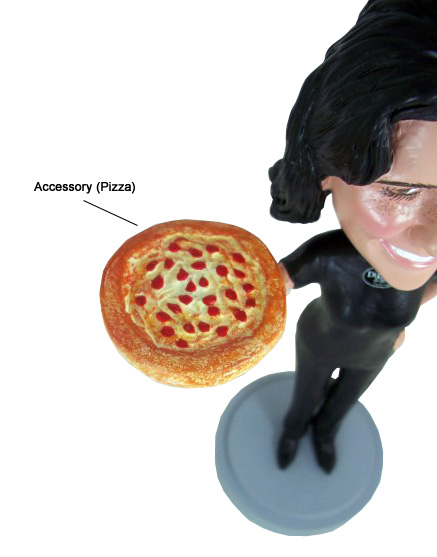 8 - This tree lover decided to go all out when it came time re-create this outdoor scene. Where else can your bobblehead scenery include a tree to this scale!? The end result here also featured a hat with a chin strap, custom frame sunglasses and protective gloves. It's amazing what a little imagination can do for your bobblehead.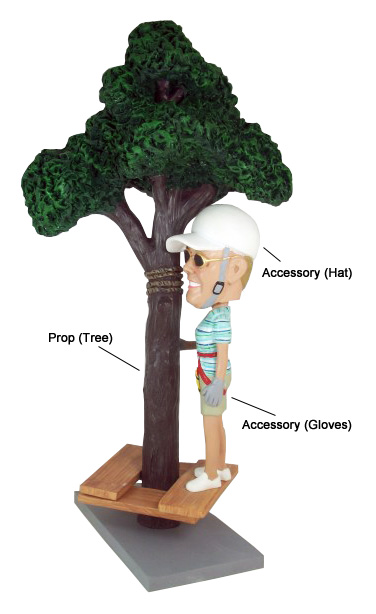 9 - Don't forget that you can also get creative with bride and groom custom bobbles as well. This couple decided to depict their outdoor ceremony with all the fixings. A real head turner for sure! Special attention was paid to this one as seen in their hair texture, the woman's make-up and the couple's name and wedding date on the their custom base. How can your guests not be "wowed" by this!?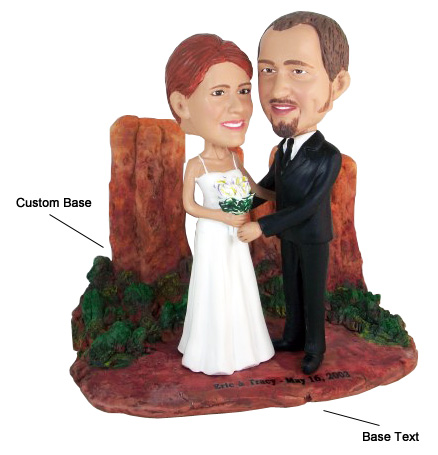 10 - This triple custom bobblehead features a custom designed base as well as scenery that displays a company logo and name. This is the perfect example of how a custom bobblehead can yield a great conversation piece for every visitor in your office setting. No project is too big for us!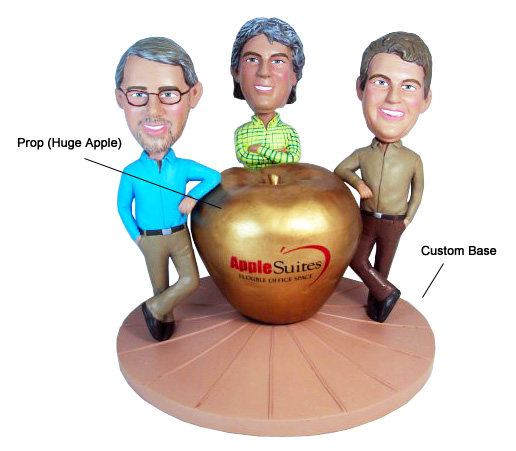 11 - This bobblehead duo is out of this world. This just goes to show you that a little imagination and ingenuity can go a long way. Featuring a full-blown custom base and scenery that anyone can appreciate. Notice the detail on the spacesuits and helmet as well as the scaled down planet Earth which all lends itself nicely to the overall effect of these great astronauts.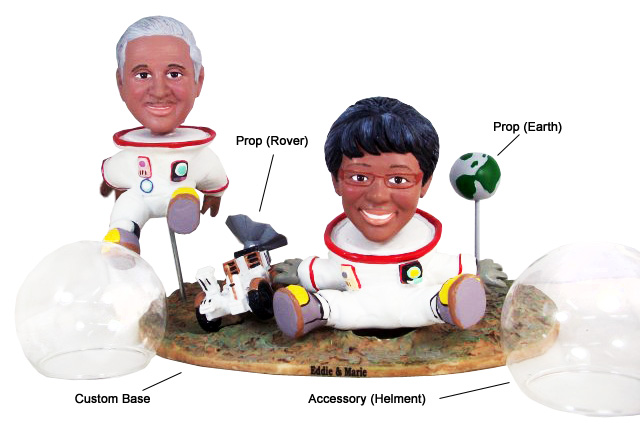 12 - This takes the term batman to the next level. The customer spoke and we listened. They wanted a lifelike custom head on a bat body posing on a pumpkin and like the many times before we delivered!
13 - The untrained eye may look at this couple and think nothing of the bobblehead, but take another look at the meticulous detail paid. The arch on her eyebrows, the ruffles in her top and the wristwatches on both. It's subtle things like this adds ton of character to the bobblehead, things that we take pride in getting right every single time.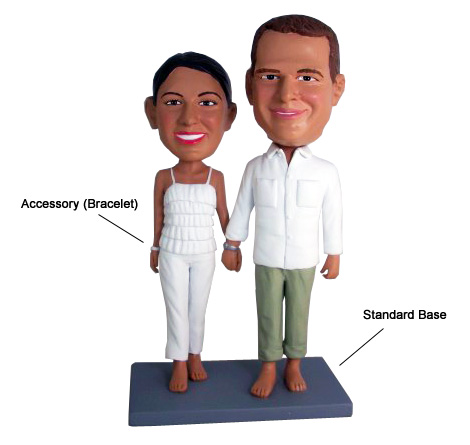 14 - No reception area is complete without something of this sort. These two dentists proudly display their company and names on this custom base...you can tell from their pearly whites just how happy they are. We can do the same for you.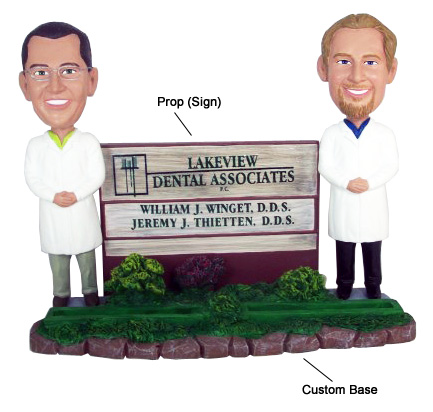 15 - I bet you didn't know that we could create mascots as well! How cool is that? Just send us the pics and explain what you're trying to do and we can bring any animal to life...even if it does have clothes on it.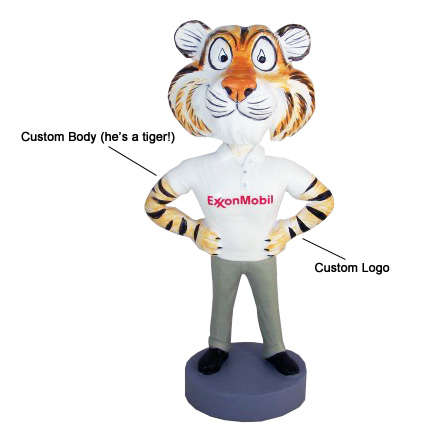 16 - You ever wanted to be a Flintstone? No problem, we can make it happen. From Wilma's rock necklace to Fred's iconic wooden club, putting your head on their body is a peace of cake for our artists. Yaba daba doo!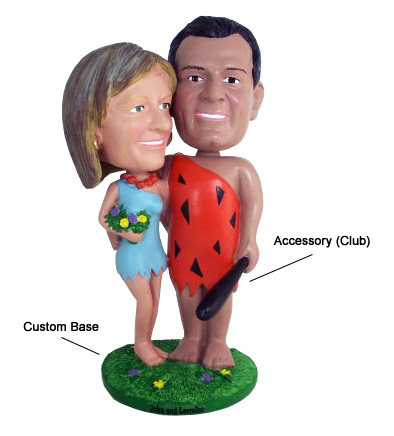 17 - A dog has been and always will be man's best friend, so why not put them on a custom base? We can replicate any breed of any color and still give special attention to the collar and the stance, both of which helps bring a pooch to life.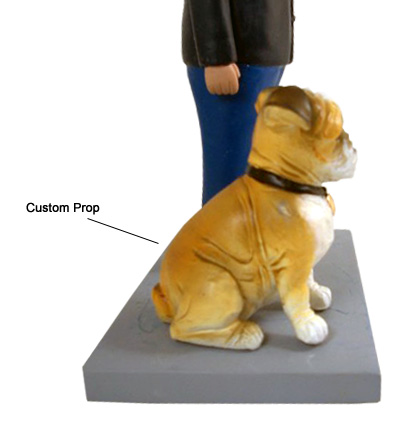 18 - Bobbleheads make for great gag gifts as well. This Apple fanboy is pictured holding his beloved iphone with a great big cheesy smile and an interesting logo on his shirt. Who wouldn't appreciate the humor in that? I know we certainly do.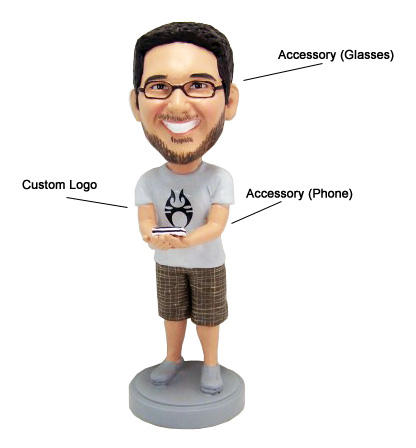 19 - This custom bobblehead proves that no project is too large for us. This customer decided to show off his police uniform, squad car and k-9 sidekick! All three are identical to their real life counterparts all the way down to the decals on the police car, the color-spotting on the dog and the work boots on the officer. You're gonna need a large base to pull off a bobble this extravagant!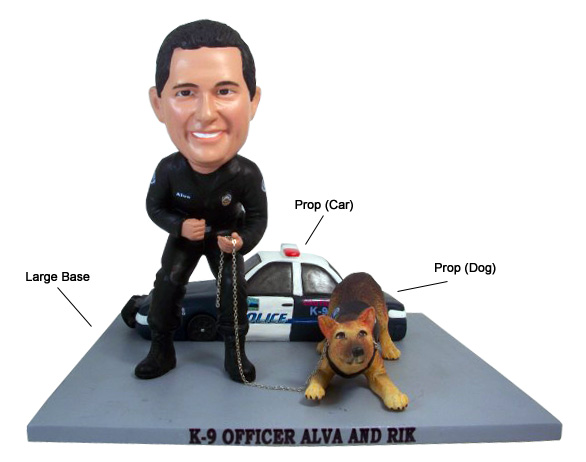 20 - Four children, two adults and one dog! Custom build the entire family and capture a moment in time. Two bases were needed for this project to come together, but as you see, it was well worth it.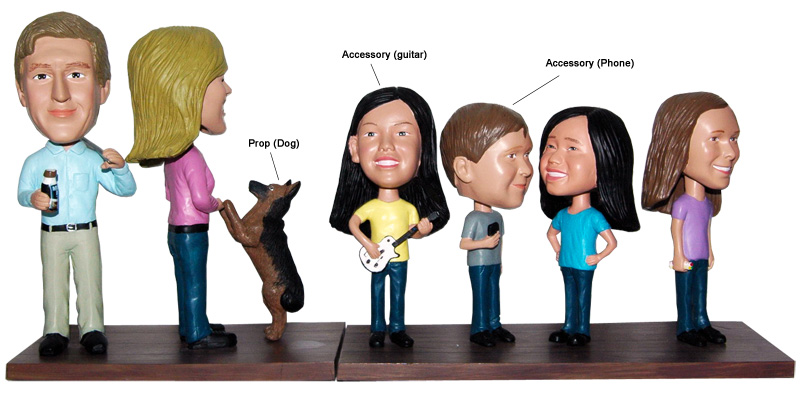 21 - Abra Cadabra! We can turn you into a wizard or a magician with no problems at all. Notice the great hand-painted details on the wizards cloak and the magicians cape. This is a great example of what you can do when you simply customize your clothing on a bobblehead. The possibilities are literally endless.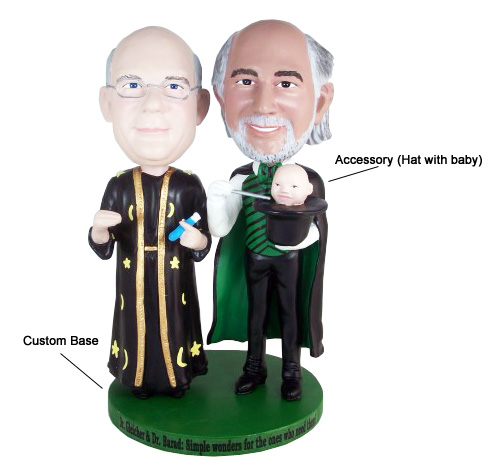 22 - Recreate the look of a pirate with a shiny cutlass, pistol, hat and wooden barrel. This full color bobblehead is a spot on match and can easily be done for you. Just ask and you shall receive matey!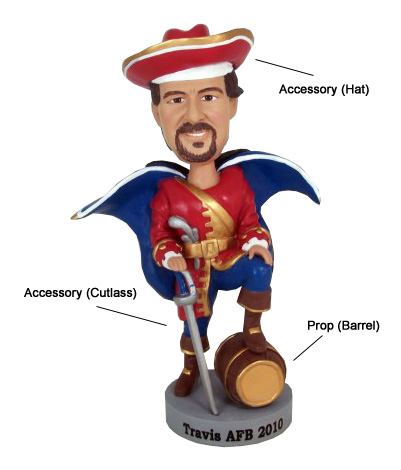 23 - Be creative and re-create a family moment with your custom bobbleheads. This family decided that commemorating it's trip to the local theme park was the best way to go and boy were they right.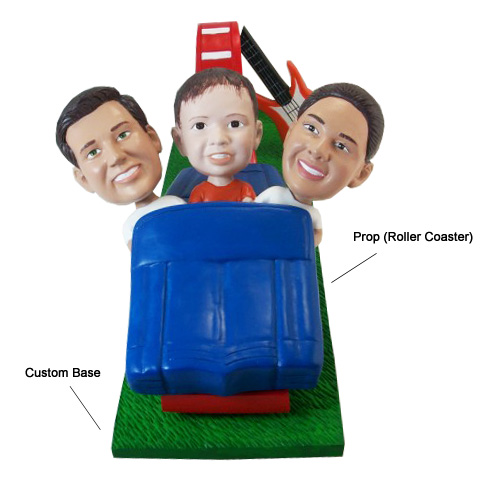 24 - The decision to this make this bobblehead really paid off. Maria won the jackpot and wanted every to know it. This elaborate slot machine was the perfect fit for the large base, Maria and all of her winnings! This one was well worth the money.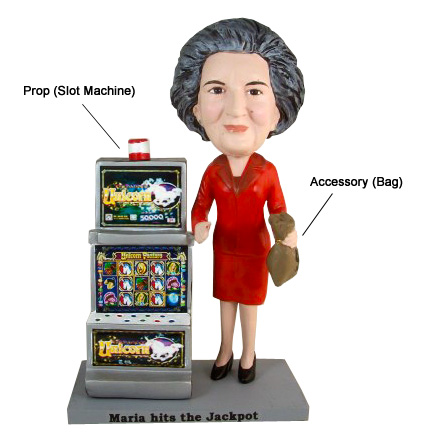 25 - Even warriors can have style and this bobblehead proves it. Complete with all black attire with grommets and a sword that only a skilled artist can craft. This piece is truly timeless.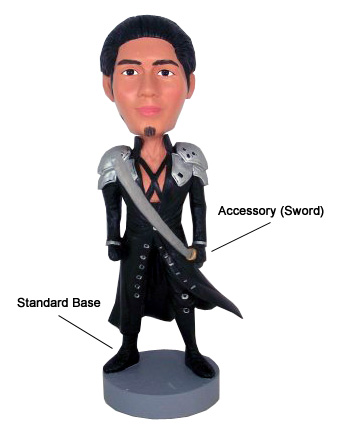 26 - This party animal features a whip-cream and waffle cone hat along with custom styled red frame glasses. The customer also opted for another great accessory that we offer, the voice-recorder! This is a voicebox hidden within the base of the bobblehead and can be used to record a custom message. How's that for custom!?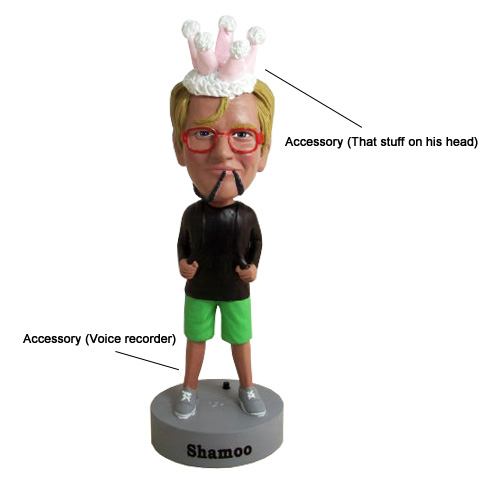 27. Create a 5 person masterpiece and showcase the entire family like Morty did. We'll get them all onto one base and match the likeness of everyone.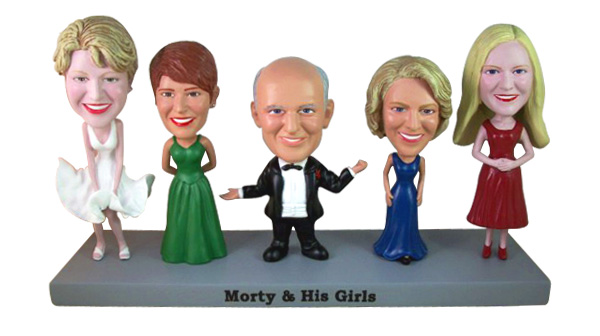 28. There's no better way to show comradery than with a fully custom bobblehead.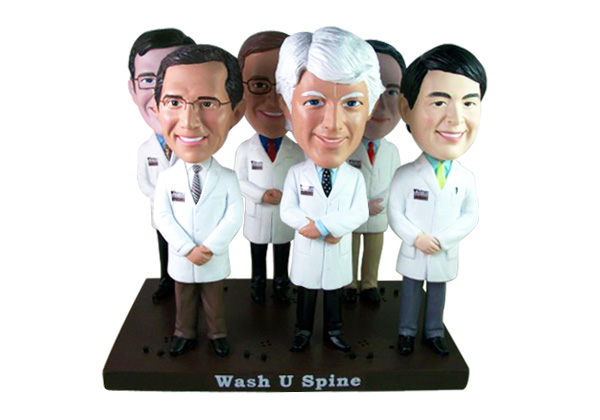 1-855-BOBBLES (262-2537) | © 2023 Bobbleheads.com | All Rights Reserved.